:: Cosmetics - Skin Care - Cellulite


5 Foods that Fight Cellulite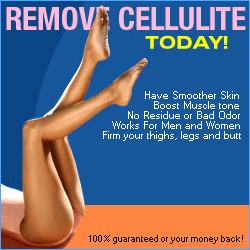 Although cellulite does not affect health but only infringes nice looking skin, it is one of the biggest concerns for today's women. Cosmetics industry earns a lot of money on lotions, oils, cremes and a variety of other products for the treatment of skin affected by cellulite. Some women even undergo the plastic surgery, not knowing that they can get rid of cellulite naturally.
In order to understand how to treat the cause of cellulite (not just the appearance, as its result), let's see how it occurs.
Beneath the skin's surface circulates Collagen that helps the connective tissue stay strong. If the skin lacks collagen, the connective tissue becomes weak, allowing cellulite to bulge through, looking like an orange peel.
How does the skin supplied with a necessary collagen? Well, as our whole body takes nutrients from food, the collagen is also pumped from there. Although there is no miracle food for cellulite, reducing body fat, increasing circulation and building collagen can all help reduce its appearance.
The following 5 foods can be effective in fight and reducing cellulite, along with a healthy diet and regular exercise:
1. Chili peppers or other spicy peppers get their strong, tangy flavor from capsaicin, which also makes you feel warm. That increase in body temperature enhances your metabolism. The more fat you burn, the less pronounced your cellulite may be.
2. Green tea also helps promote weight loss by speeding up the metabolism. In addition, the compound theobromine in green tea helps the body release stored fat, reducing your risk of accumulating cellulite.
3. When you eat salt, you retain water. Eating bananas can help your body release water from your muscles, making it look like you have less cellulite.
4. Some of the antioxidants in blueberries assist with collagen production and prevent collagen breakdown.
5. Besides being luxuriously rich and creamy, avocados contain vitamin C, which helps with collagen production. Avocados also contain the good kind of fat, which helps you feel full, preventing you from overeating and helping you maintain your weight.
WE RECOMMEND: In order to provide the type of nutrition that is needed to reduce cellulite naturally, MyDietShopz.com has had to explore a variety of products that are not found in the common store. We suggest you to visit their website and learn more about foods that fight cellulite!
Eating cellulite-fighting foods along with a healthy diet can help you look your best, but there is no miracle cure. Eating nutrient-rich foods and maintaining a healthy lifestyle are the best ways to keep added pounds and cellulite at bay.